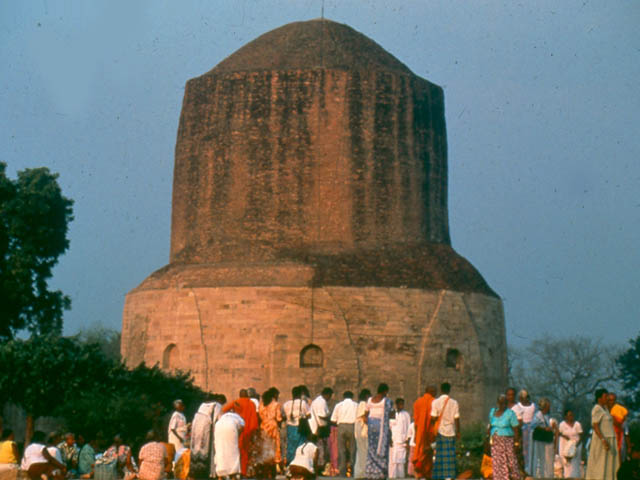 Buddhapath (Eleven Directions) is 3rd in this august global list (including Plum village and Spirit Rock) of inner journeys in outer spaces. Rating has been done by CNN. Read more...


Shantum Seth is offering this trip at highly reduced price because it is a fund-raising pilgrimage for the Plum Village Sangha, because he wants to help his venerable teacher Thay and support the EIAB.
Monastics from the EIAB and Plum Village will be on this trip.
This pilgrimage is only open for Sangha members (PV and EIAB).
Shakyamuni Buddha discovered the truth of overcoming suffering and bringing happiness to the individual, family and society. Before he died, the Buddha suggested that it would be of great benefit to those who are interested in his teachings to make a pilgrimage to the places associated with his life.
This 13-day journey will begin in New Delhi on the 12th of October 2014 after which we fly to Varanasi. Thereafter, we travel by our own private coach to Bodh Gaya, Nalanda/Rajgir, Vaishali,, Kushinagar, Lumbini and Sravasti. From Sravasti we go by road to Lucknow and then take a train to Delhi. We will be back in Delhi on the 24th of October at 10:30pm. You should book your departure flight late night on 24th October or early morning of 25th October 2014.
In Delhi, we will visit the place where Mahatma Gandhi, the father of India, lived and died. This is a wonderful place to begin the pilgrimage. Gandhi personified a unique way of politics where it became an exercise of ethical living. He was a man open to all cultures and religions but with deep faith in his own.
Our journey will take us across the plains of the River Ganges to the Deer Park at Sarnath, where he gave his first teachings, Bodh Gaya, where the Buddha attained enlightenment, and we will visit his favorite meditation places such as Vulture Peak in Rajgir, and Kushinagar, where he passed away.  We will also visit Lumbini, where he was born and Sravasti where he preached many rain retreats. Aside from visiting the places where the Buddha lived, we will visit monasteries, temples and shrines.  The trip includes visits to homes of locals in cities and villages, a gentle 8-kilometer walk to the Dungasiri Mountain (Mahakala Cave) where the Buddha practiced his austerities.  We would meet environmental and social activists and visit the homes of both the poor and the privileged to get a sense of contemporary India. We would combine this with the underpinnings of the Buddha's teachings, and some of the places he lived and visited so we can examine what we are witnessing and experiencing both from an external and internal perspective.
In Varanasi we will also take a boat ride on the Ganges at sunrise.
The pilgrimage is an unforgettable opportunity to explore areas that few tourists visit and to see and experience aspects of contemporary Indian life that, in many ways, have not changed since the time of the Buddha.  We invite you to join other practitioners on a transformative journey that will allow you to touch an ancient culture and civilization, and experience the life of the Buddha through the places he lived and taught.  Join us on this journey through a fascinating and mysterious India – as we walk in the footsteps of the Buddha.
India is very diverse in culture, language and environment.  The Buddha lived and traveled along the Indo-Gangetic plains in Northern India.  Besides New Delhi, the pilgrimage visits two states of northern India, Uttar Pradesh and Bihar.
India's cities stand in large contrast to her villages and have their own interesting (if seemingly chaotic) lifestyle.  Varanasi and Bodh Gaya are both significant pilgrimage sites, having their own distinct character and personality.  In these places we get a closer view of how modern and traditional India co-exist.  Kushinagar, Lumbini, Sravasti and Rajgir are smaller towns and relatively quiet, giving the pilgrims the opportunity to absorb the nuances of the local culture and society.
Itineraries
EIAB Pilgrimage with Shantum Seth: 12th October to 24th October 2014 (13 days)
Day 1: 12th October 2014:: Delhi - Patna by air. Drive to Rajgir
Day 2: 13th October 2014:: Rajgir
Day 3: 14th October 2014:: Rajgir - Bodhgaya
Day 4: 15th October 2014:: Bodhgaya
Day 5: 16th October 2014:: Bodhgaya
Day 6: 17th October 2014:: Bodhgaya - Varanasi
Day 7: 18th October 2014:: Varanasi
Day 8: 19th October 2014:: Varanasi - Kushinagar
Day 9: 20th October 2014:: Kushinagar - Lumbini
Day 10: 21st October 2014:: Lumbini
Day 11: 22nd October 2014:: Lumbini - Sravasti
Day 12: 23rd October 2014:: Sravasti
Day 13: 24th October 2014:: Sravasti - Lucknow by road. To Delhi by train/air. Departure.
With the Agra Option:
25th October 2014: Delhi - Agra - Delhi. Departure.
With the Caves Option:
26th October 2014: Delhi - Aurangabad by air
27th October 2014: Aurangabad.
28th October 2014: Aurangabad - Delhi by air. Departure.