Shantum Seth is an ordained Dharmacharya (Dharma Teacher) in the Buddhist Mindfulness lineage of the Zen Master Thich Nhat Hanh and teaches in India and across the world. He has been leading pilgrimages 'In the Footsteps of the Buddha' and other multi-faith, educational, cultural, spiritual and transformative journeys across diverse regions of India and Asia since 1988.
He is actively involved in educational, social and ecological programmes including work on cultivating mindfulness in society, with educators, the Central Reserve Police Force and the corporate sector amongst others. This is pioneered by the non-profit trust, Ahimsa www.ahimsatrust.org of which he is a co- founder.
He has been a Senior Advisor to the World Bank and advised the Ministry of Culture and the Ministry of Tourism, Government of India on Buddhism and Pilgrimage Tourism. He worked in the corporate sector and later in social advocacy and development, fifteen years of which were with the United Nations Development Programme, managing programmes on Volunteer Promotion and Artisan Development across 16 countries, as also initiating the Endogenous Tourism programme in India.
Shantum Seth has been a consultant on films including 'Life of the Buddha' made by the BBC and Discovery and Michael Wood's 'The Story of India' made by BBC and PBS. He had helped Mira Nair when she was working on her film version of the Buddha with Warner Brothers and Martin Meissonnier while he was working on the Life of Buddha for Arte (French TV). He has contributed to a number of books including, 'Walking with the Buddha', 'Planting Seeds…Sharing Mindfulness with Children', and 'Volunteers against Conflict'.
He is considered the foremost guiding teacher to the sites associated with the Buddha and has trained tour guides for UNESCO and the Government of India while also being accredited as an official guide with them. You travel with Shantum not merely as a well-informed guide but as a wise friend. He opens up his home and helps connect you with interesting people from all strata of society. He calls himself a cultural interpreter, and enjoys sharing the subtleties of India's religions, society, economy and politics with people from around the world - anyone interested in understanding the mind of India. He is wonderful with young people, opening up a world of possibilities to them, by offering practices to live mindfully and understand themselves in the context of diverse cultures; to awaken to their fuller potential by exposing them to different ways of living and thinking. He enjoys people and skillfully facilitates building a close community of those who come on our journeys. These relationships that have developed into life-long friendships. Read more>>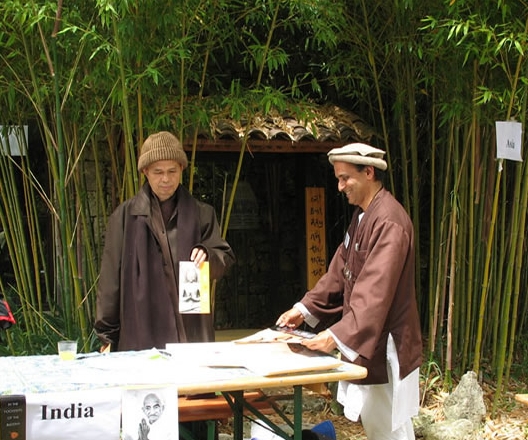 Thich Nhat Hanh with Shantum Seth endorsing "In the Footsteps of the Buddha". Pulm Village 2006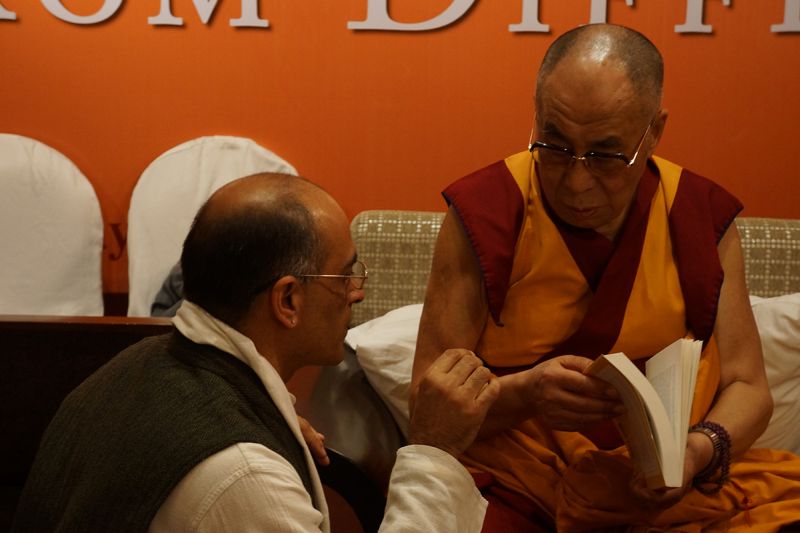 With His Holiness The Dalai Lama, offering the book Planting Seeds: Practicing Mindfulness with Children.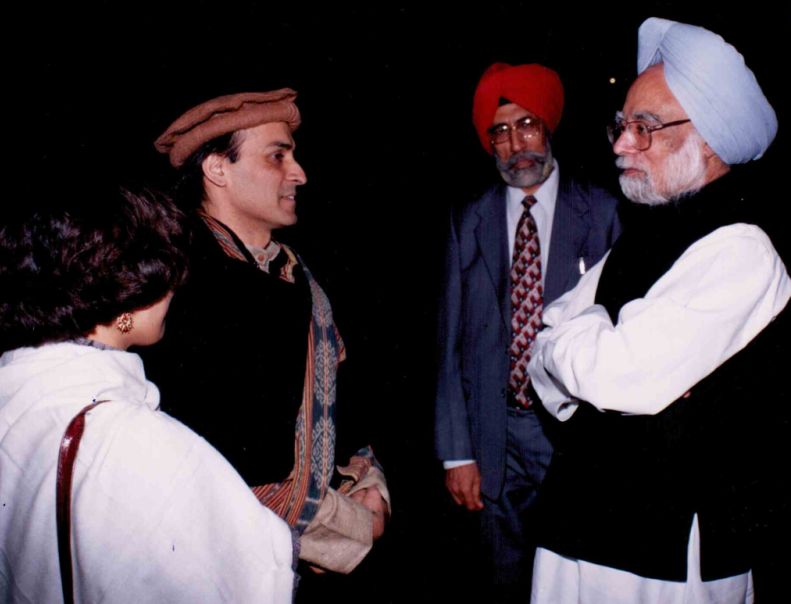 With the Prime Minister of India, Dr. Manmohan Singh, discussing issues of social development.